Jon (Jonathan Augustus) Gardella was born in Cooperstown NY on October 11, 1948 and grew up in Weston, Massachusetts. At the early age of 8 he was fortunate to come under the protective care of a very stimulating art teacher Bob Lavin. By the time he was 13 years old he had already learned many techniques: sculpture, painting, life drawing, etching, printing and had visited many museums and art shows.
In 1967, at the age of 18, he went to Italy to study at the Academia di Belli Arti in Rome, under Professors Venanzo Crocetti and Pericle Fazzini. Before entering the Academia in Rome he worked in Florence with a group sponsored by the Uffizi Museum for the restoration in churches damaged by the flooding of the Arno river. The beauty of the Renaissance masters and Florence, largely influenced his career as a sculptor.
In 1968 he continued his studies in the Netherlands at the Rijksakademie van Beeldende Kunsten in Amsterdam, under Professor Piet Esser and Paul Gregoire and Vaarzon Morel where he completed his studies in 1972. His generation, the 3rd, of Rijksacademie students are known as "The Group of Figurative Abstraction".
Jon's intensive study trips largely in France, Italy and Greece, drawing in museums and ancient sites has given him a rich insight in the history of art. The ancient Greek sculptors Phidias, Sophocles etc., the French period of Rodin and other sculptors in that period has influenced the development of his own work. The Renaissance in Italy has lead him back through time to the Etruscan culture. Repeated trips to Etruscan settlements, tombs and small out the way museums has shed the magic Etruscan light on his own inspiration.
When in 1986 Jon was asked by opera director Sarah Caldwell of the Opera Company of Boston to be the décor designer for the opera Medea, Jon was able to transform his knowledge of ancient Greece into a wonderful décor of more than 20 very large sculptures, reliefs ( 24 meters long) and architectural structures. Preparations for this grand scale opera involved travelling with Sarah Caldwell to Paris, Berlin, Greece and eventually Israel where the décor set was finally made.
When one visits his studio today one is impressed with his large collection of imposing sculptures, colorful drawings and graphic prints full of movement and emotion. Gardella's work show flowing lines, the arabesque, golden ratio and the smooth transition from one form to the other form.
Gardella has been often commissioned by municipalities and government agencies ( see curriculum vitae below). The balance between the architecture of a park/square or building, the wishes of the client and beauty, forms the basis for every design that Gardella makes. 
In 1997 the Dutch Queen Beatrix visited Gardella's studio in Garnwerd.
A documentary film, made by NPS for TV, is about the work and life of Gardella titled:
( "Movement in Sculptures").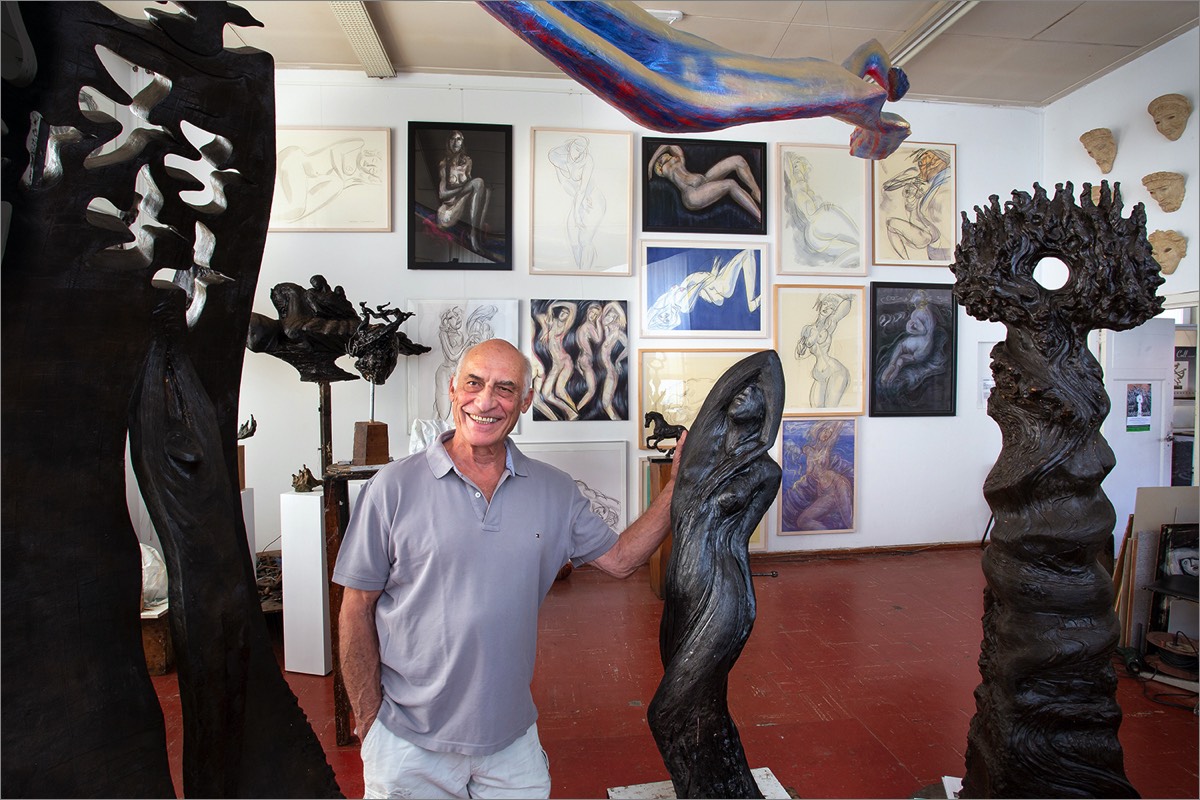 Jon in his atelier